Are you looking to give your vehicle a higher stance and improved off-road capabilities? Installing a lift kit can be the perfect solution.
Lift kits elevate your vehicle's body or suspension, allowing for larger tires and enhanced ground clearance. If you're in Houston, TX, and searching for the best lift kit installation services, you're in luck.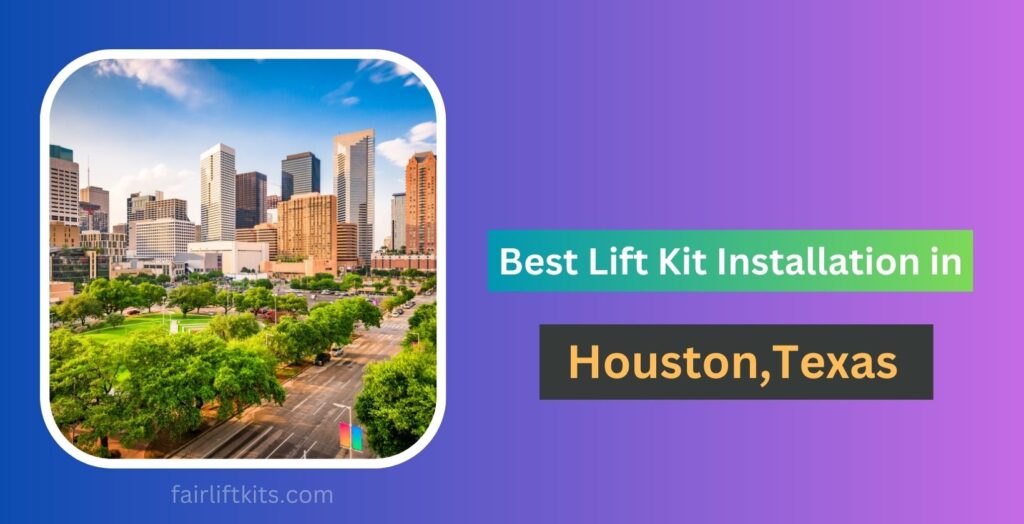 Before diving into the top lift kit installation centers in Houston, let's take a moment to understand the basics.
A lift kit is an aftermarket modification that raises the height of your vehicle's suspension or body. By doing so, it allows for larger tires, increased ground clearance, and improved off-road performance.
10 Best Lift Kit Installation Near Me in Houston, Texas
1. Regicide Drop Shop,Alignment, and Suspension Specialist
Address
9618 Hollock St, Houston, TX 77075, United States
Business Description
Performance Upgrades & Customization Experience specialized lift kits, lowering kits, suspension maintenance, sunroofs, alignments, custom driveshafts, coil over racing, big lip wheel suspension, custom chassis, and custom rearend.
3. Wayside Customz
Address
10960 East Fwy, Houston, TX 77029, United States
Business Description
Revamp your ride and transform it into the vehicle you've always dreamed of. Their team of experts with over 30 years of combined experience is here to help. Choose from a wide range of services including New Wheels & Tires, Off-road Wheels & Tires, Drops Kits, Lifts Kits, Leveling kits, Custom Wraps, Powder coating, Electric Side steps, Rock lights; Adapters, Wheel repair. With hundreds of positive reviews and a strong reputation, they're the trusted choice of passionate car enthusiasts. Start your journey towards the car of your dreams today!
4.4 Wheel Parts-Off Road Truck & Jeep 4×4 Parts
Address
13820 Westheimer Rd # 104, Houston, TX 77077, United States
Business Description
Enhance your truck, Jeep, or UTV shopping experience at 4 Wheel Parts Houston, TX. Find the latest products, competitive prices, and expert installation services under one roof. Discover high-quality items, exceptional customer service, and customize your vehicle with help from their knowledgeable sales associates and off-road experts. Their ASE certified technicians ensure the best performance and warranty in the industry.
5. American Wheel & Tire – AWT
Address
11350 Northwest Fwy, Houston, TX 77092, United States
Business Description
American Wheel & Tire, since 1985, has maintained their core values of customer care and exceeding expectations. With our commitment to quality and a wide range of services including tires, wheels, accessories, and custom solutions, we have become the largest single store in Houston and across the USA.
8. BTS Customs
Address
12954 Beaumont Hwy, Houston, TX 77049, United States
Business Description
Premier truck accessories shop in Houston since 1986. Expanded business under new management. Growing online store and workshop space. Partnering with vendors for quality products and professional installations.
9. Cartronix Plus
Address
7715 S Texas 6, Houston, TX 77083, United States
Business Description
At Cartronix Plus, we prioritize customer service above all else. Their dedicated team goes the extra mile to ensure that our customers' needs are met, resulting in 100% satisfaction with our top-notch products and services.
10. Texas Auto Trim
Address
6025 Bissonnet St, Houston, TX 77081, United States
Business Description
Welcome to the Ultimate Automotive Customization Shop Est. 1978 • Discover our services: Custom Upholstery, Wheels & Tires, Lift/Suspension, Vinyl Wraps | PPF, Sunroof Repairs, Convertible Tops, Audio/Video, Safety Electronics, Katzkin Leather Authorized, Ceramic Coating, Custom Paint, and more.
Conclusion
When it comes to lift kit installations in Houston, TX, these ten establishments stand out for their expertise, quality service, and customer satisfaction.
Whether you're seeking to enhance your off-road capabilities or achieve a more aggressive look for your vehicle, these reputable centers have you covered. Don't hesitate to reach out to them for professional lift kit installations and experience the thrill of elevated off-road adventures.
FAQs (Frequently Asked Questions)
How long does it take to install a lift kit?
The installation time for a lift kit can vary depending on several factors, such as the type of vehicle and the complexity of the kit. On average, a professional installation may take between 4 to 8 hours, but it's best to consult with the specific installation center for a more accurate estimate.
Can I install a lift kit myself?
While some experienced individuals may have the skills and tools to install a lift kit themselves, it's generally recommended to have it professionally installed. Lift kit installations require expertise and specialized knowledge to ensure proper fitment and performance, as well as to avoid any potential issues.
Will a lift kit void my vehicle's warranty?
In most cases, installing a lift kit will not automatically void your vehicle's warranty. However, it's essential to review your vehicle manufacturer's warranty guidelines and consult with the installation center to ensure compliance with warranty terms and conditions.
What are the benefits of a suspension lift kit?
A suspension lift kit offers several benefits, including increased ground clearance, improved off-road performance, larger tire fitment, enhanced approach and departure angles, and improved suspension articulation. These benefits contribute to a more capable and versatile off-road vehicle.